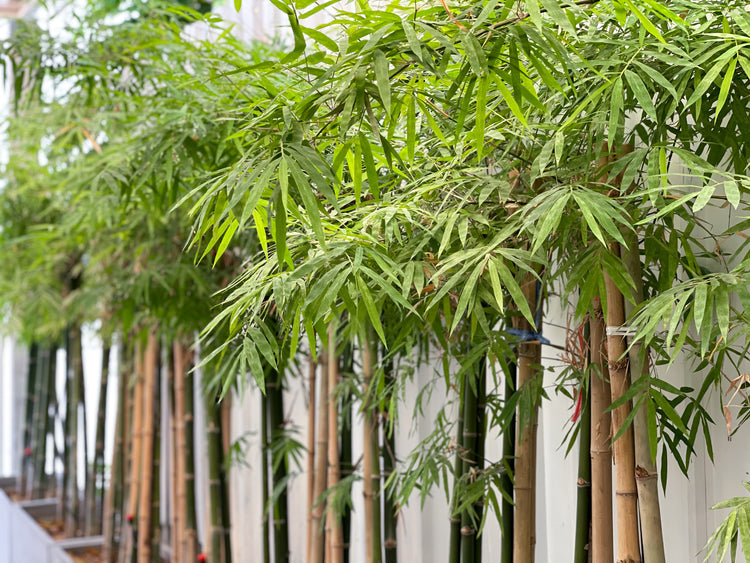 Bamboo Root Barrier
Are you struggling with invasive bamboo roots? With over 20 years of experience as Root Barrier Distributors and Invasive Weed Specialists, we can help you select the best bamboo root barrier solution for your needs. Our FlexiRoot root barrier for bamboo has a puncture resistance of 4409 newtons, making it a top performer in the market. We even offer a specialist fleece to enhance the effectiveness of the bamboo rhizome barrier against the plant.
Dealing with bamboo can be a daunting task, but we are here to assist with your bamboo barrier needs. Always happy to discuss your specific requirements and provide expert bamboo root barrier section and installation advice. We have strong relationships with contractors, and can even offer removal and installation services to ensure your bamboo barrier is properly installed and effective in stopping the spread of bamboo rhizome.
Why use root barrier for bamboo?
Certain species of bamboo (esp. running varieties) can prove highly invasive in a UK garden. Bamboo barriers can be used to prevent the plant spreading beyond a specific area. For example, for use as a vertical bamboo rhizome barrier that blocks the spread from a neighbouring property, or your own. Bamboo rhizomes are the lateral stem-like structures to which the bamboo roots are attached.

Barriers for bamboo roots (or rhizome) can also be used to contain 'wanted' plants without the fear of them spreading. Where removal is the desire, bamboo barrier can be used in combination with excavation (or runners) and herbicide treatment for better control.
Subheading
Bamboo Root Barrier Products
Top Tips for effectively installing a Bamboo Root Barrier
Put it in deep enough, most bamboo rhizome (root) can still be seen at a depth of 30-40cm. We suggest that you aim for at least 50cm of bamboo root barrier depth.
Make sure that you have root barrier protruding above ground level. Bamboo rhizome (areal roots) will, by their nature, try to extend over the rhizome barrier. It's wise to inspect the root barrier for bamboo rhizome runners from time to time.
Completely encircle the bamboo or ensure that barrier extends past the bamboo that is to be retained. If you cannot completely encircle the retained bamboo, periodically inspect it. Ensure that it hasn't sent runners out that could breach the extremities of the barrier.
Ensure all rhizome (roots) that are on the wrong side of the barrier are chased out and removed. They will continue to grow, which may give the impression that the barrier is ineffective.
Don't let bamboo take over your property. 
Professional bamboo barrier installation from a PCA accredited company.
Go to PBA Solutions